bool(false) bool(false) id:736
Jettlynn Winery and The Yachts of Seabourn

"Imagine cruising on the intimate, all-suite Yachts of Seabourn while sipping Jettlynn Winery's exquisite wines. By doing so, you'll be part of an exclusive circle, a privileged few who have discovered the true joys of yachting."
"We believe that the mission of Jettlynn Winery is similar to that of The Yachts of Seabourn: To create a unique experience for those who do not want the ordinary…who do not want the average…these are customers who want a special adventure; something rare. This is why we believe that our wines and the Yachts of Seabourn are a perfect match."
We, too, believe in quality and not in quantity and we are sure all our customers will understand how aligned our two companies are in attempting to create an amazing experience for those who seek out something special.
So for those customers who venture to the open sea and desire only the best, an intimate touch, a grace and elegance unlike any other, then we recommend the Yachts of Seabourn and Jettlynn Winery wines!
FINE DINING ABOARD THE YACHTS OF SEABOURN
Lunch of Green Thai Eggplant Curry with vegetable fried rice and papaya-mango slaw; dinner of Foie Gras Torchon with plum terrine, roasted hazelnuts and hazelnut brioche; and a sumptuous Crème Brulée en Parade for dessert, in jasmine, cappuccino and classic vanilla: such is the feast for the eyes and palate that awaits guests on The Yachts of Seabourn under the direction of celebrity chef Charlie Palmer.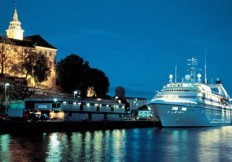 He has designed hundreds of new signature recipes for Seabourn, served in select, open-seating restaurants aboard the line's elegant yachts, Seabourn Pride, Spirit and Legend. Each vessel features a true restaurant kitchen, rather than a banquet galley, attracting highly-skilled chefs, kitchen and service brigades. Culinary fare is largely prepared á la minute, and has been cited by Gourmet Magazine as "consistently excellent."The founder of New York's highly acclaimed restaurant Aureole and a two-time James Beard Award winner, Chef Palmer has raised Progressive American Cuisine to a world-class level with creations lauded for clever combinations of big, bold flavors, the finest fresh, seasonal ingredients and playful, aesthetic presentations. He owns 11 restaurants, including Aureole, Métrazur, kitchen22 and Lenox House – four of New York's top dining spots.
Frequently the highest-rated cruise line in Food and Service on Condé Nast Traveler's Gold List, and consistently recognized with five stars in the prestigious Berlitz® Complete Guide to Cruising and Cruise Ships, Seabourn sets the finest table on the high seas.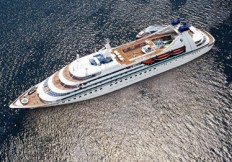 "Frankly, I know of no other ships capable of consistently turning out quality cuisine to match what we create at Aureole," said Chef Palmer.
From innovative cuisine in traditional fine-dining settings to avant-garde selections and casual, on-deck settings, guests enjoy a range of dining options aboard The Yachts of Seabourn, including:
The Restaurant: A fine-dining, open-seating gourmet experience, with exceptional cuisine served with Porsgrund china and Schott Zwiesel crystal. Jacket required most evenings; candlelit black-tie optional on special nights.
Restaurant 2: An avant-garde dining experience serving with carefully selected wine and food pairings in flights of small plates, and occasional "themed" dinners. Dress is casual most nights, although jacket is required on select evenings.
Veranda Café: Breakfast and lunch favorites amid a breezy, indoor/outdoor café overlooking the vessel's wake. Dress is casual.
Sky Grill: Casual, al fresco fare amid glorious views from the top deck. Also open for occasional dinners of grilled specialties such as steak and lobster.
Guests can also savor an In-Suite Dining experience from The Restaurant during dinner hours, even more enticing when served course-by-course in the intimacy and privacy of their suites. An extensive menu of gourmet breakfast, lunch and dinner items is available around the clock.
We are enormously gratified to be working with Charlie Palmer," said Pamela Conover, president and CEO of The Yachts of Seabourn. "His fresh approach and unique creative sensibility have completely captivated critics and diners in the most competitive restaurant markets in America. Charlie's cooking delights traditional gourmands as well as those looking to be surprised. It's a blend of savvy and sophistication that's a great match for the Yachts of Seabourn. Charlie has taken Seabourn's culinary excellence to a new level.